Oplossingen voor de retailsector
KENNISBEHEER EN ADVIES:
Een fysieke winkel die wil kunnen opboksen tegen de online prijzenslag of tegen tendensen als showrooming, zal zijn klanten een betere dienst en vooral beter advies moeten kunnen aanbieden. Een gedegen kennis van je producten en diensten bij de verkopers is daarbij broodnodig om je klanten beter te kunnen helpen.
Wij hebben een oplossing ontwikkeld die u op drie vlakken kan helpen: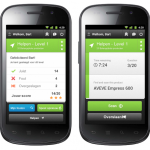 – de kennis binnen het bedrijf capteren en verspreiden
– op basis van deze kennis medewerkers helpen om beter te verkopen
– dezelfde kennis over producten, diensten of veel gestelde vragen wordt ook gebruikt voor een mobiele e-learning oplossing.
Verkopers, productmanagers of leveranciers kunnen met Knowledge Flow makkelijk op een gestructureerde manier informatie over producten of antwoorden op veel gestelde vragen invoeren. Verkopers of vertegenwoordigers kunnen snel de juiste informatie vinden om klanten meteen te helpen, of het systeem gebruiken om hun kennis up to date te houden.
Onze oplossing betaalt zich op korte termijn terug: de kennis blijft binnen het bedrijf, ook als mensen weggaan, en nieuwe mensen kunnen veel sneller ingezet worden. Dankzij de e-learning module bespaar je ook op de trainingskosten.
Lees deze case study over hoe Aveve onze oplossing gebruikt voor kennisdeling en e-learning. Of vraag ons meteen om een demo of meer diepgaande informatie.
WIFI
Als reseller van Ruckus Wireless leveren we performante en veilige draadloze netwerken voor winkels, magazijnen, winkelcentra en kantoren. We hebben onder meer bij Aveve Retail WiFi gebracht in alle eigen winkels, kantoren en magazijnen. Lees hoe tevreden men bij Aveve is over deze oplossing in de case study.
PROJECTEN OP MAAT:
Klanten informatie systeem, mobiele apps, geavanceerde webtoepassingen. We helpen u graag bij het uitwerken van uw specifieke behoeften.